SUPPORTING THE THUMBS UP FOUNDATION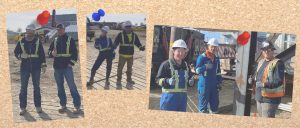 Strike and our customer have teamed up to support the Thumbs Up Foundation! The crews on our Didsbury and Nordegg sites have started a combined fundraising effort to support this foundation.
The Thumbs Up Foundation's vision is to establish and connect resources for patients suffering in all areas of mental health. We fully support this cause and encourage others to contribute!
The foundation aims to:
help improve knowledge around mental health;
help to create awareness for the need for systemic change(s) to the current access to care; and
educate on the devastating loss that can result from these deficiencies.
WATCH THE THUMBS UP VIDEO
Strike is committed to breaking down the stigma around mental health. Most construction and oil & gas workers avoid seeking help due to the stigma around mental well-being. We are incredibly thankful to work with such a remarkable team of individuals that are helping to support open communication and breakdown the stigma around mental health. Strike consistently strives to ensure every employee comes home safe; treat others as we would wish to be treated; demonstrate leadership, drive, creativity and initiative; and support the communities in which we live and work.
FOR MORE INFORMATION                                                                                                                                                    
The image below shows Kim Titus, Executive Chair of Thumbs Up, speaking to Strike's crews on our Didsbury site: