Legacy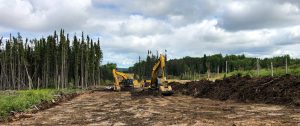 Through ebbs and flows in the energy industry, Strike has thrived with our customers at our side. We have a long history of providing infrastructure construction and maintenance support to the energy and industrial sectors. Over the years we have grown and diversified our service offerings in order to holistically support projects.
We are proud of the well-known and respected brand we've built in Western Canada with an established base of blue-chip customers.
To ensure a strong and prosperous future, we are focused on a forward-thinking approach to innovation, Indigenous relations, and sustainability.
Strike's Timeline
2004 – Strike Energy Founded
2006 – Recognized by Husky Energy as a "Leader in Safety Excellence"
2006 – Acquired G & B Pipeline
2007 – First became recognized as one of Canada's 50 Best Managed Companies
2007 – Won Work Safe Alberta's "Best Safety Performer" Award
2008 – Acquired Double M Electric in Calgary, AB
2009 – Recognized as Alberta Venture's 50 Fastest Growing Companies
2010 – Recipient of IMV Projects "Contractor of Choice" award
2012 – Won TOM Capital's Philanthropist Award
2013 – Expanded our Electrical & Instrumentation division into Saskatchewan
2013 – Won Alberta Venture's "Contractor of the Year" award
2014 – Acquired Bob Dale Oilfield Services in Drayton Valley, AB
2015 – Strike Group Inc. and TriWest Capital Partners announce a partnership
2015 – Began operating as Strike Group Limited Partnership
2016 – Started Canadian Plains Energy Services throughout the Saskatchewan prairies
2017 – Acquired Quakes Oilfield Construction Ltd. in Lloydminster, SK
2018 – Recognized as Platinum Level for Canada's Best Managed Companies distinction
2019 – Acquired Jedco Energy Services in Red Deer, AB
2019 – Recipient of TC Energy's "CEO Safety Leadership Awards" for the Saddle West Expansion
2020 – Acquired Brent Gedak Welding in Estevan, SK
2021 – Recognized as one of the "Top 40 Contractors in Canada" from On-Site Magazine
2021 – Won Indigenous Award of Distinction from Alberta Chambers of Commerce
2022 – Recipient of ACSA's "Trailblazer Award" for our commitment to workplace safety
2022 – Recognized as one of the "Top 40 Contractors in Canada" from On-Site Magazine
2022 – Won "Marketing Award of Distinction" from Alberta Chambers of Commerce
2022 – Won the "Industrial Heartland Award" from Fort Saskatchewan Chambers of Commerce
2022 – Nominated for a "People's Choice – Suncor Excellence Award" from Suncor
2022 – Won a "Safety Award" from the CEPA Foundation