Why Work for Strike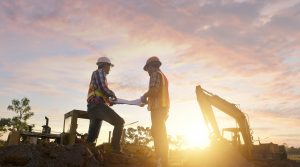 Employee Engagement
If you've worked in the industry a while, you know that not all cultures are created equal. Instead of feeling uncertain about your future, join a team that will help you diversify your experience, find job stability, and discover a work family who genuinely cares about you!
Diversify
We know that our people set us apart from the competition. As such, we build teams that are composed of loyal, supportive, and forward-thinking industry professionals. When you work for Strike, you become a part of a team that embraces professional development, maximizing talent, and upward mobility to help you diversify your skillset across multiple industries.
Job Stability
Through multiple downturns in the industry, our team has grown, changed and adapted, which has kept our employees thriving at work through the good times and the bad. Throughout it all, we've built a fast-growing company that has maintained a small business feel.
Community
Our community spirit is strong! We work across Canada's western provinces and contribute to the communities in which we live and work.
Top 10 Reasons to Join the Strike Family
Get home safely—it's our #1 priority
Find a welcoming and inclusive team
Build your career with internal training and development
Be a part of a team that actively supports your local community
Have coworkers and supervisors that support your mental health
Get competitive total compensation including benefits and RRSPs
Learn from an experienced team of professionals
Play a role in minimizing environmental impact
Push boundaries with a forward-thinking and innovative team
Join a company that has a strong, stable future ahead!
Perks & Rewards
Your commitment, energy, enthusiasm, and results are rewarded with:
Competitive wages
Great benefits
Tuition refund program
Annual employee engagement survey—your opinion matters!
Training, development, and mentoring programs
Management Trainee Program
Employee appreciation BBQ's
Strike merch at annual safety stand-down meetings
Leadership visibility and access—your voice counts!
Business unit safety awards
Strike Group has been recognized as one of Canada's Best Managed Companies since 2007. Our company was founded by a close and reliable team who are passionate about providing safe and quality service.
Join the Strike family!
Hear from the Team You're Joining
With the exception of a few weeks here and there I have been a site-based employee. When you're away from home all the time it's so important to work with people who love and care for you just like your family would and I feel that with Strike. I know that I can count on anyone I work with. I have created so many great, lasting friendships that have helped me through many ups and downs in my life. I'm grateful to Strike for the opportunity to have been able to foster those friendships.

— A valued Strike Employee