Strike Group Brands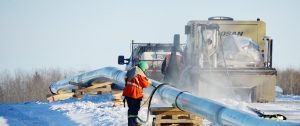 Founded in 2004, Strike Group has grown to offer a full suite of infrastructure construction and maintenance services across 24 locations in Western Canada. We support a variety of industries including Oil & Gas, Midstream & Transportation, Petrochemical & Downstream, Power & Utility, Industrial & Mining, and Environmental & Renewable.


Founded in 1985, and acquired by Strike in 2014, Bob Dale provides construction services, including fabrication, maintenance, installation, facility construction and small-inch pipelines in the Drayton Valley area.

Founded by Strike in 2017, Canadian Plains is a Saskatchewan-based company that offers pipeline and other construction services with offices in Carlyle, Alida, Lloydminster, North Battleford, White City, and Estevan. There is also a location in Virden, Manitoba.

Founded in 2002, and acquired by Strike in 2020, Jedco offers pipeline maintenance and construction services out of their home base location in Red Deer, Alberta.