2021 Canada's Best Managed Companies

We are excited to announce that Strike Group has once again received Platinum level and been named as one of Canada's Best Managed Companies for 2021!
According to Deloitte, this year's winners attribute their success in a year of turbulence to clearly defined organizational purpose, fostering a remote work environment, and a clear focus on employee well-being, which has led them to overcome some of today's most pressing challenges and remain competitive on the world stage.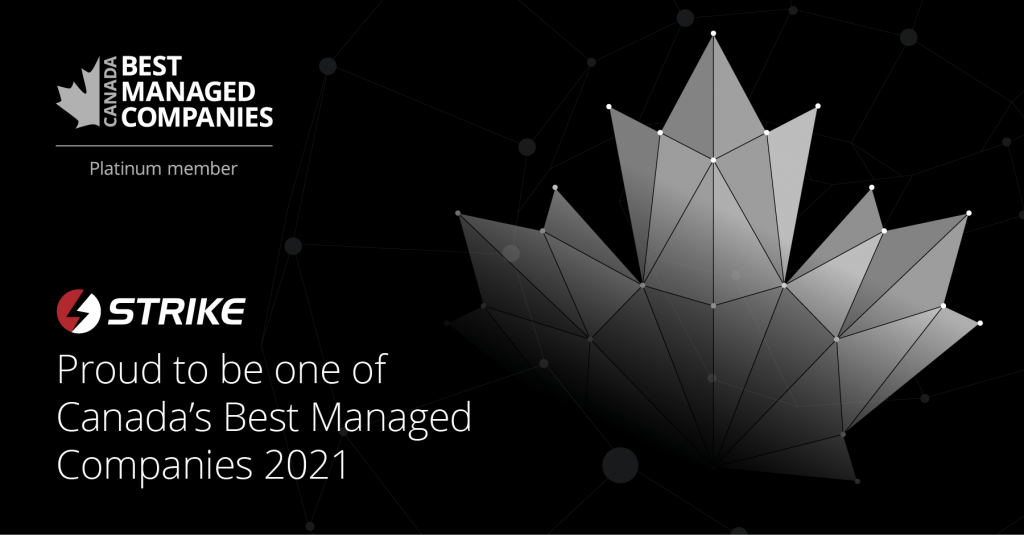 Check out all the winning businesses here: https://www2.deloitte.com/ca/en/pages/canadas-best-managed-companies/articles/meet-our-winners.html?id=ca:2em:3cc:awa_2021_Best_Managed_Winners_Announcement:Event__GBNAB3D6
About Canada's Best Managed Companies
Canada's Best Managed Companies continues to be the mark of excellence for Canadian-owned and managed companies with revenues over $25 million. Every year since the launch of the program in 1993, hundreds of entrepreneurial companies have competed for this designation in a rigorous and independent process that evaluates their management skills and practices.
The awards are granted on four levels:
Canada's Best Managed Companies new winner (new winners selected each year);
Canada's Best Managed Companies winner (award recipients that have re-applied and successfully retained their Best Managed designation for two additional years, subject to annual operational and financial review);
Gold Standard winner (after three consecutive years of maintaining their Best Managed status, these winners have demonstrated their commitment to the program and successfully retained their award for 4-6 consecutive years);
Platinum Club member (winners that have maintained their Best Managed status for seven years or more).
The Best Managed program includes 486 companies, offering a strong network to support the 37 new winners of 2021. The network continues its expansion beyond Canadian borders, now with presence in 37 countries globally.
Program sponsors are Deloitte Private, CIBC, Canadian Business, Smith School of Business, and TMX Group. For further information, visit http://www.bestmanagedcompanies.ca