Winchell Lake Auxiliary Buildings – Mechanical, Utility Gas, Fuel Gas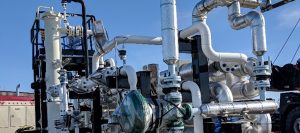 Project Location
Completed in Strike's Crossfield Module Yard
Strike Divisions
Industrial
Project Overview
Project involved 3 separate building/skid packages shipped directly to the Winchell Lake Compressor Station.
Strike completed:
Mechanical Building – included a combination of instrument air and heat medium building into one building package;
Utility Gas Building; and
Fuel Gas Skid.
All buildings included Structural Fabrication, Material Procurement, Pipe Fabrication, Coating, Hydrotest, Building Supply and Installation, HVAC, Electrical & Instrumentation, Insulation, and Transportation to site.