Donation to Little Warriors Be Brave Ranch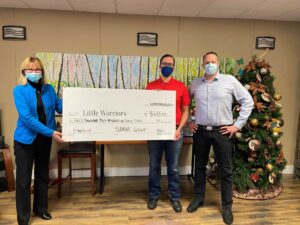 In November 2020, Strike Group donated over $8,000 to the Little Warriors Be Brave Ranch in Sherwood Park, Alberta.
The Little Warriors Be Brave Ranch is a specialized, trauma-informed evidence-based, treatment centre focused on helping children who have been sexually abused, as well as their families. The Be Brave Ranch program offers a one-year combined onsite and outpatient program designed with significant input from many leading academic and clinical experts who specialize in child sexual abuse and trauma.
One of Strike's values is to support the communities in which we live and work. A huge thank you to our employees at the Fort Saskatchewan Electrical & Instrumentation office for continually supporting this value!