Strike Sponsors International Women's Day Conference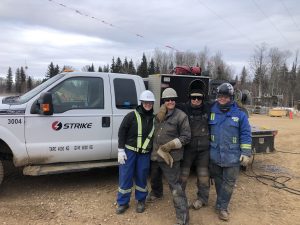 We are excited to help contribute to creating a more inclusive and equitable world. The theme of the 2021 International Women's Day conference this year was Choose to Challenge.
Strike Group is an equal opportunity employer, and we are committed to promoting women working in all areas of construction and maintenance. We know that our people set us apart from the competition. As such, we build teams that are composed of loyal, supportive, and forward-thinking industry professionals. When you work for Strike, you become a part of a team that embraces professional development, maximizing talent, and upward mobility.
Strike works with emPOWER: Women in Trades, which is a no-cost government-funded training program, designed in partnership with SAIT to help unemployed or marginally employed women with an interest in entering the trades sector. This program provides skills, training and support to begin your career and to secure entry-level employment in the trades industry.
From challenge comes change, so let's all #ChooseToChallange
Click on the links below for more information on:
Below are all the event sponsors: