Alberta Carbon Trunk Line (ACTL) Pipeline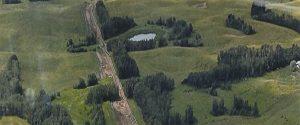 Project Location
Camrose, Alberta
Strike Divisions
Pipeline
Project Overview
Canadian Plains Energy Services, a Strike Group company, completed the construction of Spread 3 for the Alberta Carbon Trunk Line pipeline.
It involved the construction of approximately 42 km's of NPS 16" steel pipeline to be utilized as part of a carbon capture program for enhanced oil recovery methods. An additional 23 km's was awarded in the Spring of 2019 (Spread 2A). The job was completed in fall of 2019.
The new system was built to safely transport and permanently store CO2. The Alberta Carbon Trunk Link (ACTL) system is the world's newest large-scale carbon capture, utiliatizion, and storage (CCUS) project and is now fully operational.