Boyer Abandonment Winter Project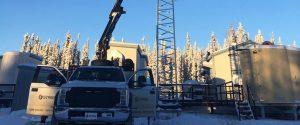 Project Location
Various Locations in Boyer & Haig, NW Alberta
Strike Divisions
Field Services
Project Overview
The Boyer Abandonment project involved abandonment of: 198 wells, 233 pipelines (also prepped for internal cutting), 120 shacks, 10 header sites, 3 booster sites, and 2 plant sites.
We removed surface equipment from leases including well head shacks and suitcase separators; supported internal cutting operations; supported demolition operations.
This project involved remote location, ice roads, simultaneous operations and an extreme cold climate.