Wapiti Gas Plant Phase 1 & 2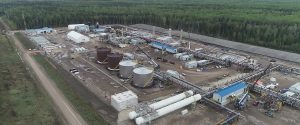 Project Location
Grande Prairie, AB
Strike Divisions
Project Services, Electrical & Instrumentation
Project Overview
The Wapiti Gas Plant, located 60 kilometers southwest of Grande Prairie, is a sour gas processing and liquids stabilization plant that supports development of the Montney.
Phase I of this gas plant was recently completed and can process up to 150 mmcf/day of sour gas and 25,000 bbls/day of condensate.
Phase II will add an additional 150 mmcf/day once completed in mid-2020. The gas plant includes three field compression nodes (Gold Creek Compressor Station, Elmworth Compressor Station and Pipestone Compressor Station), associated pipeline gathering infrastructure, and acid gas & water injection wells.