5 years of Zero TRIF for E&I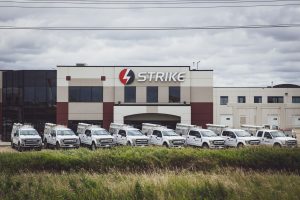 One of Strike Group's fundamental values is to ensure every employee comes home safe.
Strike's Fort Saskatchewan Electrical & Instrumentation (E&I) office just celebrated five years of zero TRIF! TRIF stands for Total Recordable Injury Frequency and it is the number of total reportable injuries per 200,000 exposure hours worked during the period. To have a TRIF of zero means that there have been no recordable incidents or injuries for a significant duration of time.
We are incredibly proud of the safety-focused team behind this achievement. A lot of conscious effort goes into ensuring work is completed safely and efficiently. Thank you to everyone on the team that has helped to make this achievement a reality.
The manager of this business unit, Blake Pawsey, noted that "Safety comes down to culture. This team has been together for a long time. These leaders have proven that leading by example and never allowing safety to suffer over productivity and schedule is key to success. I am incredibly proud to be a part of this team and our accomplishments."
The photo below features our Leadership Team at our Fort Saskatchewan E&I office:
Many of Strike's locations have achieved a TRIF of zero over the years, but only a few have been able to maintain this safety accolade for multiple consecutive years. Five years of zero TRIF is incredible and it comes from deliberate leadership and safety focus!
Click below to learn more about Strike's Safety Program: