The Moose Hide Campaign

The Moose Hide Campaign
AUTHOR: SHERRY WOODS
The Moose Hide Campaign recognizes that all forms of violence are unacceptable, regardless of gender. We see the disproportionate number of women who are victims and the importance of engaging men and boys in addressing this issue.

— Moose Hide Campaign
What is it?
In many Indigenous communities the moose hide is considered medicine, and wearing the moose hide pins is like medicine for social alignment with our society.
The Moose Hide Campaign is a grassroots movement for Indigenous and Non-Indigenous men and boys' commitment to stand up to violence against Indigenous women and children. The story is started by a father and daughter named Paul and Raven Lacerte who are from the Carrier Territory in British Colombia. They were hunting moose along the Highway of Tears and talking about how they wanted to end the violence against women and start something to bring awareness and change. The moose they hunted was brought back to the community and the hide was cut up into a bunch of little squares and made into the moose hide pins for people to wear, as a reminder of who they want to be in this world. Wearing of the pin is a promise not to harm the women and children in your life.
Excerpts from Raven Lacerte as she describes the Moose Hide Campaign:
"My dad and I started this work together in 2011. I was 16 years old when we got this idea to try thing called the Moose Hide campaign. It really came from a moment of inspiration while my dad and I were on a hunting trip, in our beautiful Carrier territory."
"We always feel so grounded and there is so much healing and connection that happens when we are in our home territories, practicing our culture, and spending time with our elders." 
"In our Carrier territories, there is a highway is a place called the Highway of Tears. Where dozens of women [have] gone missing or [been] found murdered on that long stretch of highway and some of those precious people are my loved ones."
How it works
Anyone can order moose hide pins from the Moose Hide Campaign website for free, but there is also a donation option if you'd like to donate to the cause. The donations help to produce more moose hide pins and continue the campaign to spread awareness.
Wear to Order Pins
Click this link: https://moosehidecampaign.ca/
Did you know?
1 in 3 – Over one-third of Canadians have been physically or sexually assaulted since age 151.
3x Higher – spousal violence of Indigenous women is three times higher than non-Indigenous women2.
Every 2.5 Days – A women or girl is murdered every two and a half days in Canada3.
6x Higher – Indigenous women are killed at six times the rate of non-Indigenous women4.
1,181 Missing & Murdered – According to the RCMP, there were 1,181 cases of missing or murdered Aboriginal women in Canada between 1980 and 2012, with BC recording more than any other province5. However, according to grassroots organizations, the number is much higher and likely closer to 4,0006.
Why are Indigenous women and children considered sacred?
According to the Alberta Council of Women's Shelters, many Indigenous Nations have always been matriarchal societies, meaning men would stay with the women's family upon marriage and children would be known by their mother's clan and lineage7. It was built-in security for women. It is much harder to abuse a woman who is surrounded by family. Indigenous women are the backbones of their cultures and communities. Indigenous knowledge tells us that when a woman is in the process of creating life, she is in her most sacred state of being. They are life givers and caregivers. They are the voices of their children, grandchildren and all those children yet to come. They are the voices for the land the water. They are the carriers of languages and hold the future in their hands every time they carry children.
In Indigenous laws and ways of knowing, Indigenous children are considered to be very sacred and are the heart of the family and Nation because they are a gift from Creator and recognized as both the present and future for First Nations families8. The impacts of colonization continue to upset the balance and we see today roles have shifted towards a Western standard, where Indigenous women people have become invisible or viewed as disposable. This imbalance could be a factor that is impacting the staggering numbers of Indigenous women who are missing and murdered compared to other women in Canada.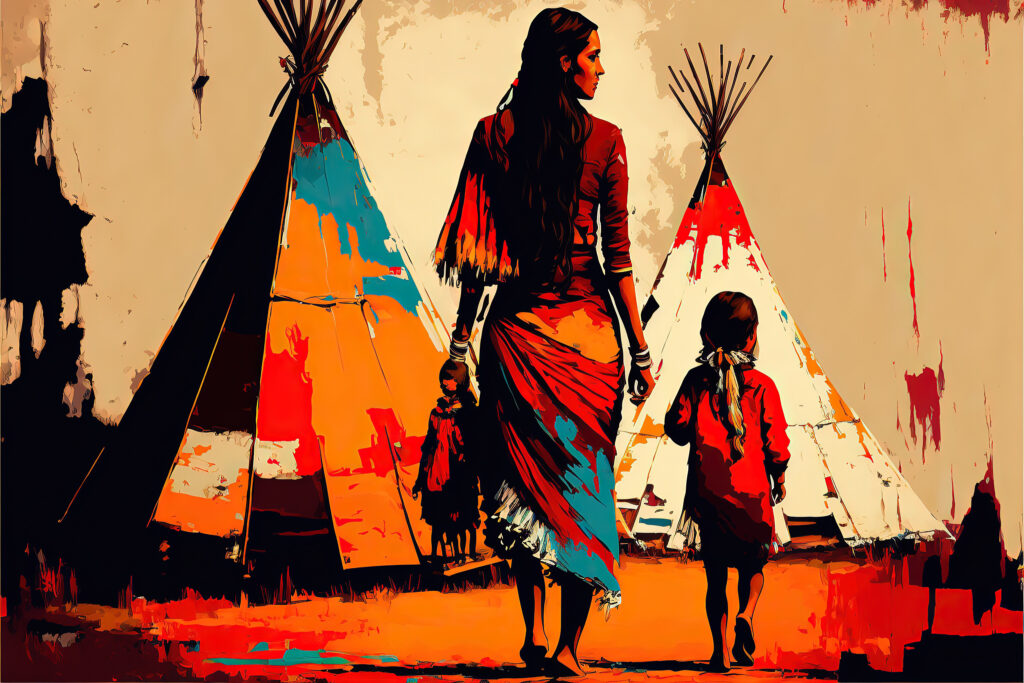 Ways to take action in your workplace and raise awareness
On May 11, wear and share the Moose Hide pin and take the pledge "I pledge to take a stand against violence against women and children".
Take pictures wearing the pin and share them on social media to spread awareness.
Listen with curiosity and compassion, and listen with discernment rather than judgment. It is not about being right or wrong. Bad or good. There are a lot of ways of seeing and being in the world.
Donate to local shelters for women and children.
Benefits of your participation in the Moose Hide Campaign
Helping end violence. Participating in the campaign signals your commitment to standing up against violence towards women and children.
Creating safe spaces and workplaces. Your organization, workplace, or community can utilize the campaign to raise awareness about gender-based violence and help create environments that are free from harassment and violence.
A low-cost option with big returns. Cost-free resources and events like moose hide pins make participating in the campaign easy and cost-effective for your organization.
Supporting reconciliation. Involvement in the Campaign promotes the implementation of the Truth and Reconciliation Commission (TRC) Calls to Action and the UN Declaration on the Rights of Indigenous Peoples (UNDRIP).
Demonstrates commitment. Participating in the Moose Hide Campaign also demonstrates a commitment to addressing the tragic reality of missing or murdered Indigenous women and girls in Canada and the Calls for Justice of the National Inquiry.
Promotes cultural sensitivity and anti-racism. The Campaign helps increases the understanding of the intergenerational impacts of colonization and residential schools. It is a practical and effective way to help address racism against Indigenous peoples.
Empowering professional development. Engaging in the Moose Hide Campaign, and particularly the annual gatherings, helps individuals gain experience in cross-cultural relations and build tangible skills to promote violence-free spaces.
Encouraging healthy masculinity. The campaign is an effective way to help guide men and boys in developing healthy behaviours.
Resources to get help and mental health support for Indigenous men, women and children
ALBERTA WIDE – MENTAL HEALTH HELP LINE
1-877-303-2642
SHELTERSAFE
An online Canadian resource for women and children seeking safety from abuse by connecting them to their nearest shelters.
sheltersafe.ca
MYPLAN CANADA
A free app for victims of domestic violence to help with their safety and well-being.
myplanapp.ca
KIDS HELP PHONE
A Canadian organization that provides professional counselling, information, and referrals available for young people 24/7.
1-800-668-6868.
www.kidshelpphone.ca
RESIDENTIAL SCHOOL CRISIS LINE*
Available 24 hours a day for residential school survivors and family.
1-866-925-4419
*(Individuals impacted by the issue of Missing and Murdered Indigenous Women and Girls are encouraged to contact the MMIWG Crisis Line toll-free at 1-844-413-6649)
HOPE FOR WELLNESS HELPLINE
First Nations, Inuit, and Métis seeking immediate emotional support can contact the Hope for Wellness Help Line toll-free at 1-855-242-3310.
hopeforwellness.ca
CRISIS SERVICES CANADA
The Canadian suicide prevention service – 24/7 support by phone or text.
1-833-456-4566.
crisisservicescanada.ca
———————————
REFERENCES
———————————
About the Author:
Sherry is currently studying Communications at Mount Royal University. She is working towards using her writing talents to give voices to Indigenous People and helping to tell their stories. She is a proud member of Siksika Nation and the Blackfoot Confederacy.