Indigenous Award of Distinction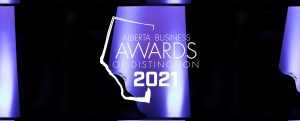 We are humbled and honored to have been awarded the Indigenous Award of Distinction from the Alberta Chambers of Commerce! Strike Group ("Strike") has been working diligently to educate our employees and build respectful Indigenous relationships.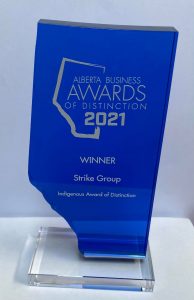 Strike is a forward-thinking construction company that focuses on sustainability. One of our key values is to support the communities in which we live and work. We are extremely active in the local communities where we have offices and/or projects.
As shown recently, education around Indigenous history is crucial. While we are in the midst of learning the truth of what occurred in residential schools across Canada, we implore further investigation and action. We choose to stand with Indigenous people and our hearts go out to all communities during this difficult time.
We are committed and have a responsibility to ensure that our employees are trained with a fundamental level of competency around Indigenous culture to help develop and preserve positive relations with Indigenous peoples, businesses, and communities.
Some of the things that Strike has done are:
Created an Indigenous Relations committee to build relationships and engage with several bands and First Nations in Western Canada;
Committed to Truth and Reconciliation Commission (TRC) Call to Action #92;
Added an Indigenous Awareness Course as part of our orientation for all employees;
Prior to projects, we engage with the local Indigenous leaders and community members to determine how best to involve and engage their people. Our participation plan is targeted to Indigenous Communities and members located within a 100 KM distance of our operating areas and project sites;
Participated in Orange Shirt Day and the Moose Hide Campaign;
Working with Indigenous communities to provide training, apprenticeship, mentoring and project specific inclusion opportunities;
Tracking the percentage of our workforce and subcontractors that are from Indigenous heritage. We have done this to ensure we are living up to our commitment of supporting the economic inclusion and participation of Indigenous peoples;
Brought in Indigenous speakers to educate our team during Management Conference's;
Working with Cascade Projects Ltd, an Indigenous owned company, and Ballad Group to engage with several First Nation Communities in a transparent, respectful, and professional manner;
Connected with the program called Trade Winds to Success that is partnered with Indigenous community organizations and government funding agencies to provide First Nation, Metis, and Inuit people an opportunity to receive pre-apprenticeship training and shop experience in construction trades;
Entered into formal partnership agreements (MOU and JV agreements) with First Nation and Indigenous owned companies (such as, SIMPCW, Saulteau FN, Wildflower Process Solutions);
Have provided sponsorship opportunities to First Nations communities across Western Canada;
Became proud members of Circle for Aboriginal Relations Society (CFAR) and the Canadian Council for Aboriginal Business (CCAB);
Created an annual Indigenous Scholarship Program through Strike that provides $2,000 scholarships to Indigenous students pursuing post-secondary or trades school.
It is our hope that by sharing the actions we have implemented we can inspire more businesses to follow suit and continue building meaningful relationships with the Indigenous Communities in and around Alberta.
We would like to thank our leadership team for setting the tone, our employees for their willingness to learn, Syncrude for sponsoring this award, and the Alberta Chambers of Commerce for this opportunity to share about our efforts.
For more information about the Alberta Business Awards of Distinction:
For more information on the Truth and Reconciliation Commission (TRC) Calls to Action:
For more information on Strike Group's Indigenous Relations: