National Day for Truth and Reconciliation
National Day for Truth and Reconciliation
AUTHOR: SHERRY WOODS
The federal government announced the creation of a new statutory holiday – the National Day for Truth and Reconciliation is to be recognized on September 30th each year. Since 2013, September 30th has been known as Orange Shirt Day, a day to recognize the tragic history and long-standing effects of residential schools.
Canada is the only western country that has had a Truth and Reconciliation Commission so we're trying to look through a new lens. We as Canadians, we as an Aboriginal, can celebrate each other.

— Chief Robert Joseph of the Kwikwasut'inuxw Haxwa'mis First Nation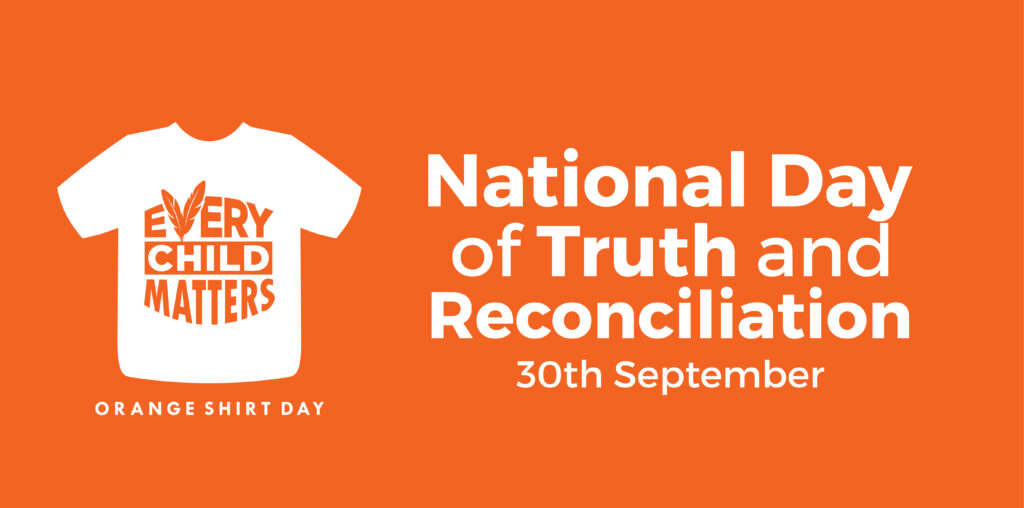 Did you know?
Over 150,000 First Nation, Inuit and Metis people attended residential schools between 1880 to 1996. These schools were run by church organizations and founded and administered by the Canadian government. This system was imposed on the Indigenous people to eradicate their culture and language.
Truth and Reconciliation Commission of Canada was formed in 2009 to investigate the full extent of the harm caused by residential schools, propose solutions, and prevent future abuse of Indigenous communities. The Commission noted 94 Calls to Action (CTRs) that outline how Canada can work toward reconciliation. As noted in CTA #80 below, it was suggested that Canada create a National Day for Truth and Reconciliation to build equity for Indigenous Canadians and to ensure that we don't forget the atrocities from our past.
Call to Action #80 – "We call upon the federal government, in collaboration with Aboriginal peoples, to establish, as a statutory holiday, a National Day for Truth and Reconciliation to honour survivors, their families, and communities, and ensure that public commemoration of the history and legacy of residential schools remains a vital component of the reconciliation process."
5 Things You Need to Know About Truth & Reconciliation
You can't skip the uncomfortable parts…
Reconciliation is for everyone!
Reconciliation is about justice doing.
Don't be afraid of the hashtag or the phrase #landback
Reconciliation is not going to be perfect.
Orange Shirt Day
Orange Shirt Day was created as an opportunity to discuss the effects of residential schools and their legacy. The orange shirt represents the emotional, the mental, and the physical trama that Indigenous communities endured during the residential school era. It honours the experiences of Indigenous peoples, celebrates resilience, and affirms a commitment that every child matters.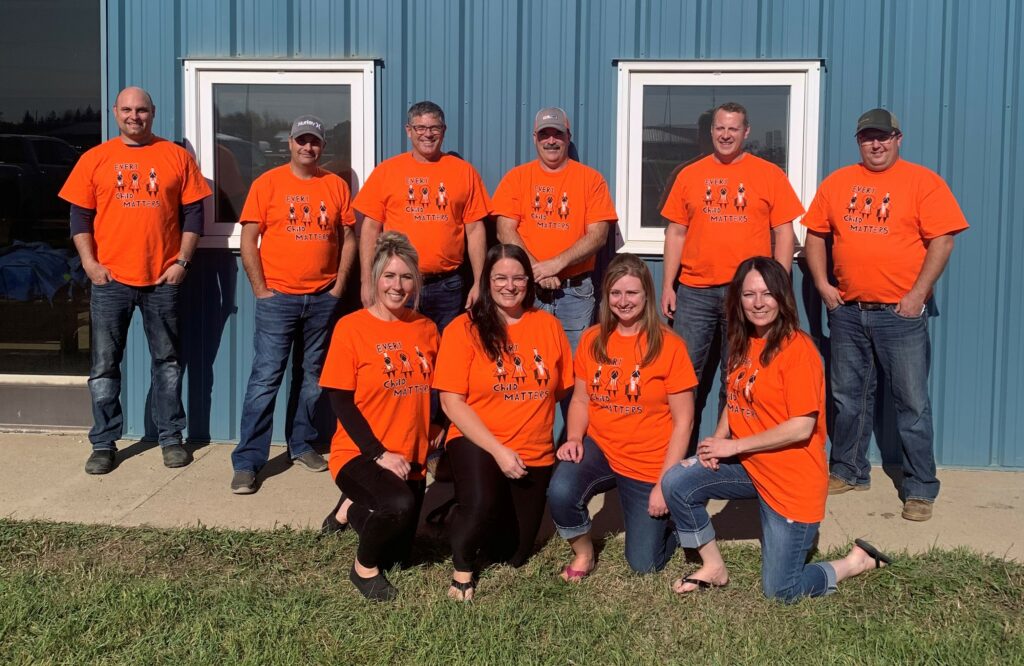 Shown above – team from our Carlyle, Saskatchewan office.
Backstory of Orange Shirt Day
The Orange Shirt Society is a non-profit organization which started in 2013, in Williams Lake, BC. The organization was founded by a woman named Phyllis Webstad.
Phyllis was six years old when she was sent off to a residential school. On that day, she was wearing an orange shirt that her grandmother gifted her. When she arrived at the school, she was stripped of her clothes, her hair was cut short, and she never saw her orange shirt again.
Wearing an orange shirt on September 30th is a reminder that the impacts of residential schools are still felt today. Survivors have recently begun speaking out about their experiences and it is a time to listen and learn. These survivors are still alive today and are coping with their trauma, and the intergenerational impact is still felt throughout communities.
Learn more: https://orangeshirtday.org/
Survivors' Stories
Residential Schools are sometimes called a 'sad chapter of Canada's history'. This makes it seem as though Canada has moved on from these stories, or that these stories are something we can simply turn the page on. Survivors of residential schools are still with us, and they have more than a chapter's worth of stories to tell.
Listening to the stories of residential school survivors is important for everyone in Canada. The Indigenous children who were forced to endure some of Canada's cruellest policies in residential schools have voices to be heard and stories to share. Many survivors choose to not speak about their time in residential school because it is too painful or too personal to share, but many others are willing to share their stories.
As difficult as it can be, it is important to listen to these stories so that we can learn from our past, and prevent this from occurring again.
Listen here: https://next150.indianhorse.ca/challenges/survivor-stories
Films to watch
Indian Horse
Bones of Crows
Holy Angels
We Were Children
Gord Downie's: The Secret Path
———————————
About the Author:
Sherry is currently studying Communications at Mount Royal University. She is working towards using her writing talents to give voices to Indigenous People and helping to tell their stories. She is a proud member of Siksika Nation and the Blackfoot Confederacy.