Strike Group Won Two Safety Awards from the ACSA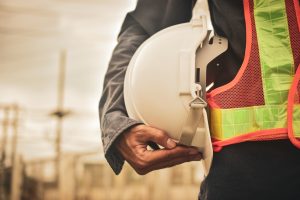 Strike Group is honoured to have won two awards from the Alberta Construction Safety Association (ACSA). As a company, Strike won the Trailblazer Award, and Brian McConnell our Manager of Health, Safety & Environment won the National Construction Safety Officer (NCSO) of the Year Award. The awards were presented virtually at the ACSA Conference taking place from March 14 to 18, 2022.
The Trailblazer Award
The Trailblazer Award recognizes organizations that demonstrate a commitment to enhancing workplace safety and a dedication to promoting health and safety within the communities they serve. Strike Group was unanimously selected for the Trailblazer Award by the ACSA's panel of judges.
The award application highlighted Strike Group's:
SOC Program (tied to Community Donations)
Leadership Visibility Program
Support of Local & Indigenous Communities
Annual Fresh Start Meetings
Commitment to Mental Health
Daily Tailgate Meetings / HIAC's
Fleet Safety Monitoring Program
HSE Committees
Certificates of Recognition (COR)
Focus on TRIF
Annual Internal Safety Awards Program
Opportunities for Recent Graduates to Interact with Senior Management
Annual Employee Engagement Survey
In-House Training Programs
Winning an award like this can't be contributed to just one person, it is from teamwork and collaboration across our company, and we are grateful for the opportunity to thank our employees for all their good work!
Watch the video to see Stephen Smith, our President & CEO, accepting the Trailblazer Award on behalf of Strike.
National Construction Safety Officer (NCSO) of the Year
The National Construction Safety Officer (NCSO) of the Year and Health & Safety Administrator (HSA) of the Year awards recognize individuals who hold the NCSO and HSA designations and have built exceptional health and safety careers in construction.
We are proud to say that Brian McConnell, Strike's Manager of Health, Safety & Environment, was unanimously selected by the panel of ACSA judges for NSCO of the Year in 2022.
Brian has worked as a safety professional for over 15 years and during that time has pursued many certifications to further his knowledge and mentored many individuals. He has worked for Strike Group for over 11 years and his commitment to safety is clear across the organization. Brian's nomination included several reference letters of support from across our organization including Senior Managers, Business Unit Managers, and people on our Safety team.
Watch the video to see Brian McConnell accepting the NCSO of the Year award.