2023 Western Canadian Scholarship Awarded
Strike's scholarship program is part of our commitment to helping break through barriers and creating a positive impact on the community at large. We aim to ensure that everybody's voices are heard and that we are creating a welcoming work environment.
Our Western Canadian Scholarship intends to promote inclusion by providing a scholarship that is open to all students living in Western Canada. For 2023, we are delighted to award the scholarship to Brody Delude.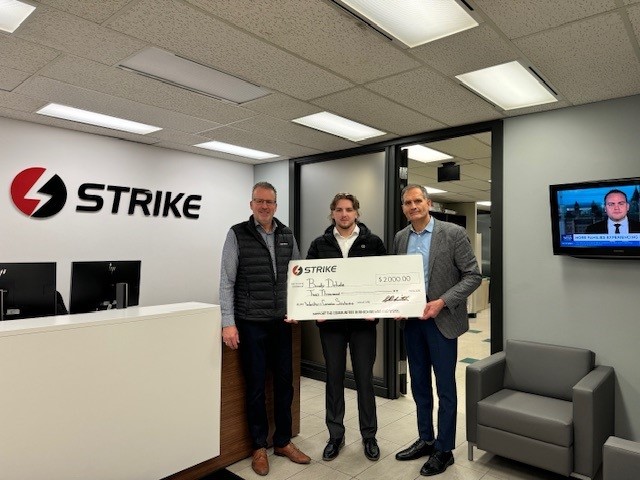 Brody is from the small village of Champion, Alberta and is currently attending Mount Royal University. He is pursuing a major in Financial Analysis with a minor in Computer Information Systems. This unique academic combination reflects a strategic approach to preparing for a career that demands a comprehensive skill set at the crossroads of finance and technology.
To give back to the community, he:
Was a member of the Champion 4-H Club,
Raised funds for cancer care, and then donated his hair,
Performed park clean ups in Vulcan County,
Raised money through his community for the Children's Hospital in Calgary,
Participated in charity events for the Lions Club,
Volunteered with seniors at Vulcan Hospital, and
Contributed to many community projects and local Food Bank initiatives through his hockey team at CCHS.
Through sports, he was able to develop strong leadership skills, teamwork skills, and a sense of community responsibility. Brody aspires to use his skillset from finance and computer science to contribute to the economic development and long-term prosperity of Vulcan County. Looking ahead, Brody aims to pay it forward by serving as a mentor, inspiring and encouraging the next generation.
Strike wishes Brody all the best with his educational journey and future endeavours!
LEARN MORE ABOUT STRIKE'S EDI SCHOLARSHIP PROGRAM: