2022 Top Contractors in Canada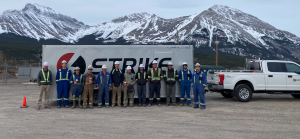 Strike Group is honoured to have once again made On-Site Magazine's list for the Top 40 Contractors in Canada! We operate across Western Canada, providing infrastructure construction & maintenance services to a variety of industries. In 2021 we were #26 on the list, and this year we have moved up to #20!

Strike is keenly focused on continuing to support our customers, the safety of our employees, and operating our business in a sustainable manner. For us, being one of the Top 40 Contractors in Canada means that we:
Ensure every employee comes home safe.
Provide quality work at competitive prices.
Treat others as we would wish to be treated.
Strive to continually improve.
Reward people for their commitment, energy, enthusiasm and results.
Demonstrate leadership, drive, creativity and initiative.
Support the communities in which we live and work.
Minimize our impact on the environment.
In the last year, our team has overcome the challenges of COVID-19, supply chain delays, increased material prices, and labour shortages. Strike remains successful due to the incredible team of employees that keep our operations running on a daily basis.
Sending out congratulations to all other incredible businesses that also made the list!
Click on the link below to see the full list: